Testimonials
October 25, 2014 Framingham, MA
Hello Melissa,
Thanks so much for following up with me. I haven't seen my mom since the wedding, so it's wonderful to hear that she's doing so well.
As for the wedding day itself, everything went perfectly. Both of the attendants (Elizabeth and Liz) were wonderful. They were very sensitive to Mom's needs, very warm and friendly to the family, and extremely respectful about not being intrusive in any way. Both of them remarked on how privileged they felt to be able to attend a wedding while on-the-job. They were extremely pleasant women, and did a great job of making the seemingly impossible happen (i.e., getting Mom to the wedding), while allowing family members to enjoy Mom's company without having to be concerned about attending to her needs.
Mom herself appeared 10 years younger, and was delighted to attend the wedding, surrounded by her family. Based on your remarks, the benefits appear to have extended beyond the wedding day itself, which is an added bonus.
Thank you so much for helping to make this special day even more special for all of us, particularly Mom.
Warm regards,
Gary
---
August 3, 2014  Marlborough, MA
Olivia, My Helper!
She smiles at me, and brings in the luggage.  When it's all arranged, she says "What can I do?"  Her smile is SO important.  She's there for me all day! "Thank you", "You're welcome" never fails!  When I'm able, we walk 3 times some days!  We slip into the car, shop, bring it home, and put it away!
Everyday she spent here was smoother than the last.  My children loved her, and she welcomed them all!  To be succinct, she took a tough recovery in her hands, and then it was Magic!  God bless Olivia!  My girl!
Anne M!!
---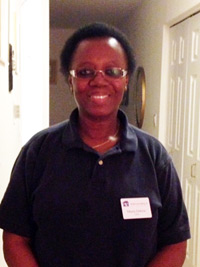 April 30, 2014.  Newton, MA
Miriam,
I am writing to let you know how much my family and I, especially my dad appreciated Maria. 
She was truly a blessing during the last months of my father's life.  We are all aware of how difficult that "work" is, and she approached it with such caring, warmth and humor. 
She is a gem! We have dubbed her "Maria Knight!"  I also want to thank you for being available to me on the phone and always finding me the information that I needed.
Finally, the hospice was so impressed by Maria, they requested information about your agency. She was a wonderful representative.
Fondly,
P. Knight
---
"I felt very alone and afraid to go home after my surgery without anyone to help me. The staff you provided to care for me was wonderful. They provided more than physical care. They were my sounding board and support. I felt very comfortable and safe. Your daily telephone calls to check on me were very much appreciated. If I am ever in need of help again, I won't think twice about calling Care Solutions..."
---
"Thank you so much for coming to our rescue. Even though we called at the last minute to secure care for our father, you called us back with good news the same day. Since we all lived out of state, the anxiety we felt when we thought our father might need to go without any help the first night he came home from the hospital was considerable. A huge weight was lifted when we received the call. We continue to appreciate all the help you have given our father. We can have peace of mind knowing he is able to stay in his own home and is well cared for by your staff."
---
"My sister and I want to express our thanks for the care your staff provided our father. I know Dad appreciated your directing the questions to him during our initial meeting. One of his frustrations from the disease was that, due to his facial and speech difficulties, those who did not know him would often direct questions to the person with him."
---
"Thank you so much for coming out to meet with my mother and me to discuss care for her in her home. What impressed me the most was your willingness to come back two more times to re-explain everything to my siblings. We all agreed that Care Solutions was more accommodating than other companies we contacted. My mother felt very comfortable with having home care after meeting you face to face."
---
"We're writing to express our tremendous gratitude for the outstanding care your health aides provided. No one could have offered better care these many months than your aide. First, she was able to earn Dad's confidence and complete trust in a short period of time (very few people could -– he could be demanding and difficult!). She totally dedicated herself to meeting his increasing needs, day and night, cheerfully and without complaint. Toward the end of his life, we agreed that hospice care was more appropriate for him, and this required learning and following hospice nurse orders regarding procedures, medications, etc. She did this conscientiously and competently, always showing Dad respect and trying to maintain his dignity. She didn't take any time off for herself during the last 2 weeks of Dad's life, which clearly demonstrates her caring and commitment to her patient."
Please call 508-366-5689 for more information or additional assistance.
Click here to download our brochure